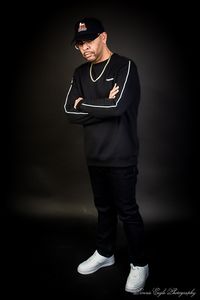 Keith Reed Jr. is a native of Columbus, Ohio. He is from a musical family and started in music at an early age singing and playing the piano. He is a graduate of The Fort Hayes School of the Performing Arts with a certificate of specialization in jazz piano. Keith also attended the Gospel Lighthouse School of Ministry. Keith currently serves as a worship leader for Christ of Calvary Covenant Ministries (Philadelphia, PA), The Lord Jesus Christ Church (Columbus, Ohio) and United Faith International Church (Columbus, Ohio) .  He served as the  Minister of Music for Destiny Church International until 2020 of which he is still a member and serves as a worship leader under the pastorate of Pastor Teddy Cesar.
On April 2, 2022 Keith released his latest project I've Got a Praise  The  title track I Got A Praise was produced by Keith and Michael Haywood. With this new release Keith blends jazzy harmonies with and r&b flare that will lead into a jazzy warfare praise.  The song was birthed out of the ever changing condition of the world and making the declaration no matter what's going on in life there's a praise that's going to be brought forth. The second song Trust You an intimate piano ballot that was birthed out a moment of desperation where almost losing everything Keith cried out to God "Lord I will trust You."  Keith has also We've Come To Worship and a live recording entitled True Worship Keith's first venture into recording was the 1999 release The Single Experience.  In 2018 the song All Hail The Power from the live recording earned Keith and New Sound of Worship a nomination for best small group performance at the Kingdom Image Awards. 
Keith has become known as an educator and respected speaker in the area of worship leadership.  In 2016 he established The New Beginning Worship Conference held annually.  He also hosts a youtube series entitled 5 Minutes on Worship.  Prior to launching his solo career Keith played keyboard, sang background, and wrote for many gospel artists.  He is an accomplished songwriter.  Keith has penned two gospel songbooks in addition to a 30 day devotional from the Psalms.
It is truly Keith's goal "to lead people into God's manifested presence!"
(For more information please click here for the events page)
Social Media links 
Facebook - https://www.facebook.com/keith.j.reed1/
Instagram - @keith.j.reed1
ticktok - @keihreedjr961